The "Frozen" storm rages on at Disney World and Disneyland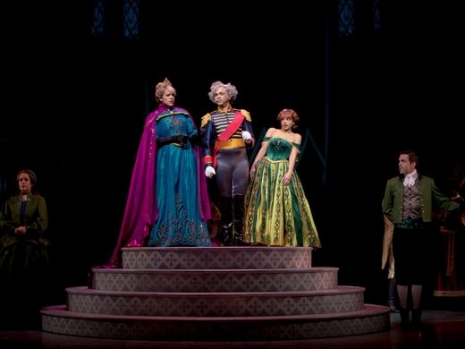 Kids may be Finding Dory, blissing out in Zootopia, and uncovering The Secret Life of Pets this year, but Frozen retains its icy grip as the top grossing animated film of all time. It's no wonder then that Disney, the king of synergy (especially when it concerns its princesses), opened two new attractions based on the regal entourage from Arendelle at its theme parks this past summer.
"Frozen – Live at the Hyperion," debuted in late May at Disney California Adventure(the park that is adjacent to Disneyland). The stage musical replaces a presentation of Aladdin that had been running at the 2,000-seat Hyperion Theater since 2003. The show's creative and production team includes members who worked on the park's Aladdin musical as well as Tony award-winning vets. The ambitious new show follows the Broadway-caliber formula established by its critically acclaimed predecessor.
And by ambitious, I mean the 65-minute "Frozen" production includes a cast and crew in excess of 200, elaborately staged scenes, and some engaging special effects. Befitting its movie roots, the show incorporates imagery that merges filmed sequences with the live performances. It also introduces charming interpretations of Sven the reindeer and scene-stealer Olaf the snowman crafted by Michael Curry. The pioneering puppet designer helped develop similar live theater characters for the Broadway adaptation of "The Lion King."
The story is basically a condensed version of the film and is anchored by musical numbers including "For the First Time in Forever," "Love Is an Open Door," and, of course, the ubiquitous "Let It Go." That showstopper includes pixie dust flourishes such as Queen Elsa ascending a grand staircase enhanced by projection-mapped snow crystals.
"Frozen" is about 20 minutes longer than the park's Aladdin musical and could test the patience of squirmy toddlers. Then again, most of the toddlers in the audience of any given show have probably seen the nearly two-hour "Frozen" movie countless times, albeit in doses at home. If the familiar characters and songs don't keep them hooked, the "snow showers" and other large-scale effects surely will. Before or after the show, fans, squirmy or otherwise, can meet Anna, Elsa, and Olaf in the Hollywood Land section of Disney California Adventure.
Disney is preparing a Broadway production of "Frozen" that is set to debut in 2018. Those who pine for Aladdin's quip-laden blue genie can still see him and the rest of the cast live on stage on Broadway and in touring productions.
At Florida's Walt Disney World, Olaf and Sven began inviting boatloads of guests in late June to take a journey from the bay of Arendelle to visit Elsa's summer ice palace in Frozen Ever After in the Norway pavilion at Epcot. The ride features sophisticated animatronics, including a remarkably agile Olaf ice skating (in this fictional world, snow and ice persist year-round, apparently) and Elsa belting out "Let It Go."
That's a cue for the boats to head backwards as ice walls rise in sync with the song's crescendos. Elsa's snowman bodyguard, Marshmallow, blows the boats forward and down a mildly thrilling hill. It's calm enough that Frozen Ever After has no height restriction, and even the youngest passengers (and wimpiest adults) should be able to handle it.
Unlike Disney California Adventure's relatively long stage production, Frozen Ever After lasts a mere few minutes. Instead of attempting to tell a story, it reintroduces the well-known characters and their ear candy songs in a new setting. The repurposed attraction uses the conveyance system and show building of Maelstrom, the featured ride at Epcot's Norway pavilion since 1988. The boats in the original attraction also reversed direction.
Adjacent to the ride, visitors can have an audience with Anna and Elsa at their "Royal Sommerhus" meet and greet, where they're available for photos and autographs. The ladies may even consent to a song snippet if you ask nicely. When the royal duo first set up shop at Disney World soon after the film debuted, lines swelled to hours, and disappointed fans were often shut out. While they are still a huge draw, the initial furor has abated. Also, guests can now reserve times to meet the pair.
Conceived as a permanent world's fair with lands devoted to the future and to various nations, Epcot has had a mostly staid, edu-tainment focus. (Initially, Disney even banned Mickey and their other classic characters from the park.) Maelstrom, for example, included depictions of Norwegian oil rigs and touted the country's history and tourist attractions. With the Frozen overlay, the Mouse appears to be signaling a willingness to, er, let it go, and embrace more whimsy and kid-friendly fun at Epcot.