'Mickey's Once Upon A Christmastime Parade' Marching Through the Decades into Hearts & Holidays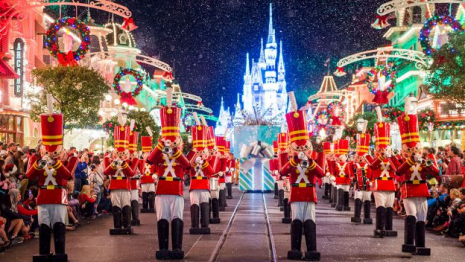 By Tim O'Day, Disney Pop Culture & Heritage Expert
There's no doubt that there are many sights during the holidays at Walt Disney World Resort that elicit heartfelt reactions of awe, wonder, and joy. From Cinderella Castle resplendent in all her winter glory, Main Street charmingly bedecked for the holidays, or the communal grandeur of the "Candlelight Processional" at Epcot, the resort seems to overflow with seasonal visual delights for all ages. I'm sure we all have our favorites.
For me, nothing beats securing a curb seat and anticipating the incredible sight of numerous marching toy soldiers coming down Main Street U.S.A. as part of "Mickey's Once Upon a Christmastime Parade" in Magic Kingdom Park. Seeing those colorful synchronized soldiers from the vantage point of the curb not only provides a great view but definitely makes you feel like a little kid again.
I wonder, though, how many of my fellow guests on Main Street recognize (or understand the origins of) those iconic marching soldiers? Are you curious? If so, settle in and set your Mickey Mouse watch back 58 years.
If you were a Disney fan back in 1961 you most likely would have been a fixture at your neighborhood movie theater (this is all speculation on my part – I wasn't even born yet!). Throughout the year you would have enjoyed such Walt Disney screen hits as "101 Dalmatians" (#1 box-office winner of 1961), "The Absent-Minded Professor" (#5), and "The Parent Trap" (#6).
For the holiday season you may have topped off your Disney fandom for the year by seeing Walt Disney's screen adaptation of the popular 1903 Victor Herbert operetta, "Babes in Toyland" (the Walt Disney Studios' first true film musical). Since its debut in 1961 the film has become a Christmastime audience favorite and can currently be enjoyed on Disney+.
"Babes in Toyland" was nominated for two Academy Awards (Best Costume Design and Best Scoring of a Motion Picture). It stars Disney Legends Annette Funicello ("The Mickey Mouse Club"), Ed Wynn (best-known as Uncle Albert in "Mary Poppins") and Tommy Kirk ("Old Yeller," "The Shaggy Dog," "Swiss Family Robinson," etc.), along with Ray Bolger (famed as the Scarecrow in "The Wizard of Oz") and pop singer Tommy Sands.
A highlight of "Babes in Toyland" is the expert stop-motion animation work of veteran Disney artists/animators/Imagineers and eventual Disney Legends, Bill Justice and X. Atencio. Their primary contribution to the film is my favorite part of the movie – a whimsical battle between the villainous Barnaby (Ray Bolger), the heroic Tom Piper (Tommy Sands) and a work room full of animated toys.
Today, "Babes in Toyland" lives on at Disney Parks through its fanciful legion of parading soldiers (long before the rise of storm troopers). However, you might wonder how the toy soldiers made the leap from the big screen to Main Street?
In the early 1960s Bill Justice was tasked with designing an all-new Christmastime parade for Disneyland which showcased an incredible array of Disney film classics and characters. Justice's design efforts resulted in "Fantasy on Parade," which premiered on December 18, 1965, with Walt and Lillian Disney in attendance.
The parade afforded Bill Justice a reunion of sorts with the iconic marching toy soldiers he helped produce for "Babes in Toyland." In designing the parade, Justice created an amazing corps of soldiers that performed choreographed drills and played instruments while marching to, what else, "March of the Toys"!
Now, more than five decades after their initial debut in both "Babes in Toyland" and "Fantasy on Parade," the marching toy soldiers have become a symbol of, and synonymous with, Disney holiday celebrations. Accruing countless parade miles down Main Street, U.S.A. in California and Florida, they have also been featured in almost all of the TV specials through the years highlighting the Holidays at Disneyland Resort and Walt Disney World Resort.
This season, when you enjoy a performance of "Mickey's Once Upon A Christmastime Parade" in Magic Kingdom Park (or "A Christmas Fantasy Parade" at Disneyland park), you'll be witnessing a Disney tradition marching before your very eyes – a tradition that goes back five incredible decades and two generations of smiles and memories.