Everyone Is Talking About Frozen and Baby Yoda. But Disney's Secret Sauce Is Its Parks.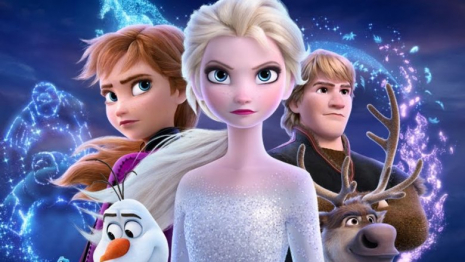 By Jack Hough
Walt Disney has demolished a pair of key box office records this year—and will extend its lead when another Star Wars film hits theaters later this month. Meanwhile, its streaming service, Disney +, is off to a fast start. But even more remarkable for stock investors is what's happening to the earnings power of Disney's parks.
In films, Frozen 2 recently pushed Walt Disney (ticker: DIS) over the $10 billion mark in box office receipts this year. Months ago the company topped its own record of $7.6 billion, set in 2016. The sequel will soon become the sixth Disney film to gross $1 billion this year, another record—until Star Wars: The Rise of Skywalker hits theaters Dec. 20, and surely pushes the count to seven.
Two asterisks: That doesn't include the contribution of Fox's (FOXA) 21st Century Fox assets bought by Disney earlier this year. And Disney gets a modest taste of the winnings from another $1 billion film this year, Sony's (SNE) Spider Man: Far From Home.
There have been no such blockbuster announcements at the parks in recent weeks—unless we count the Dec. 5 open to glowing reviews of Rise of the Resistance, the top attraction at Disney World's Star Wars-themed expansion in Florida. The same attraction opens at Disneyland in California next month.
There is plenty of action for the parks on Disney's profit statement, however. In a cover story last year, we wrote that parks and films combined had surpassed television as the company's top source of earnings, which for shareholders would help derisk the company's move to streaming. The stock has returned 37% since then, beating the S&P 500 by eight points.
During the company's fiscal year ended in September, operating income for parks, experiences and products, as Disney calls the unit, rose 11% to $6.76 billion, on sharply higher guest spending. Media networks, or television, still the biggest stand-alone earner, grew only 2% to $7.48 billion. The new direct-to-consumer division, which includes streaming, lost money, and studio earnings, which included some underperformers picked up in the Fox deal, declined.
Now look forward several years. Wall Street expects income for the parks unit to approach $10 billion by Disney's fiscal year through September 2024, easily eclipsing media networks. By then, streaming could be a significant contributor: Analysts see operating income for the division multiplying to nearly $2.5 billion that year from a small base the year before, versus $3.9 billion for the studios, up about 3%.
In other words, for Disney, streaming is an earnings driver of the future, but parks are where the earnings growth is right now.
That puts the spotlight on Bob Chapek, who runs the parks division. In a conversation with Barron's earlier this year, he talked about theme parks as a compliment to Disney's rising dominance in screened entertainment—a place where parents can turn off the screens for real-world fun with familiar characters and stories.
Upfront spending on streaming has cut into Disney's overall earnings growth at the moment. After the current fiscal year, earnings are expected to resume growing at a double-digit pace. The shares trade at 27 times this year's projected earnings. We asked Bill Smead, founder of Smead Capital Management and a Disney shareholder, whether the valuation gives him pause. He pointed out that Warren Buffett sold Disney stock in 1966, two years after the blockbuster Mary Poppins hit theaters, because growth had slowed: "Do you want to repeat the mistake of the greatest investor of all time?"
Write to Jack Hough at jack.hough@barrons.com